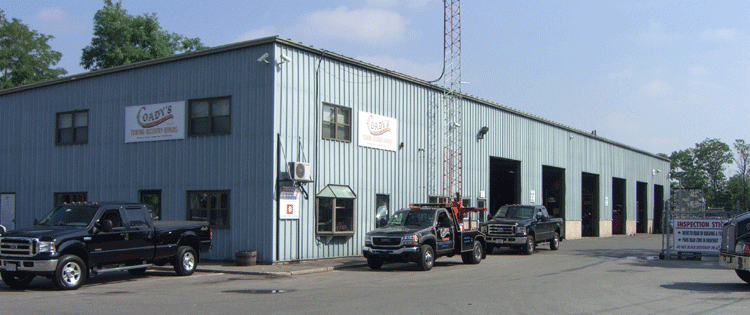 Established in 1972 in Lawrence, Massachusetts Coady's Garage and Towing Service has grown steadily to better serve our growing customer base. Our fleet of more than thirty trucks and pieces of equipment is constantly changing to meet the needs of our business and yours.
Coady's is situated on eight acres at 139 Marston Street in Lawrence, Massachusetts 01841. We are easily accessible from exit 45 and 46 off Interstate 495, just a half mile from either exit.
Our President, Frank Coady originally opened our doors right next door at 145 Marston St.
This being said, Frank formed 145 Marston Street Inc., d/b/a Coadys Garage and Towing Service. Frank is co-piloted by our Vice President and his brother, Jack Coady. We were the sole Challenger Wrecker Distributor in the Northeast before the Challenger/Century merger. We know trucks as we have been building wreckers since Frank opened our doors. The illuminated "C" on the Grill of our truck since we opened is known throughout the country.
Since 1972 Coady's has provided the area's most professional towing and recovery service.
We are proud to let our professionally trained drivers provide to you towing, air cushion recovery, Haz-Mat recovery and to allow our shop to provide you with professional repairs, fabrication and routine vehicle preventative maintenance. Coady's has hundreds of years in combined experience. Let us let that work for you!